The KaziKidz teaching and learning materials are disseminated in Ethiopia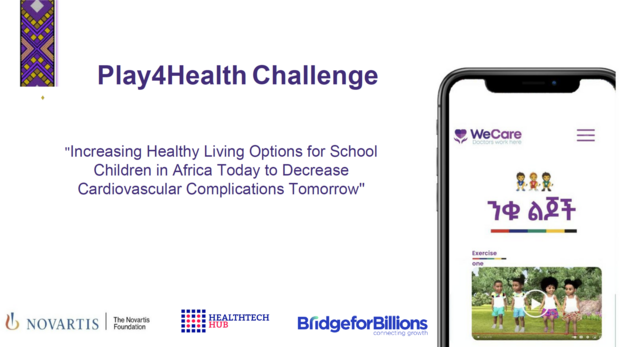 Increasing healthy living options for schoolchildren in Africa today to decrease cardiovascular complications tomorrow.
In Ethiopia, non-communicable diseases (NCDs) are the leading cause of death in a population of 52.7 million under the age of 14. The goal of the national strategy is to reduce NCDs by 1/3 by 2030.
WeCare ET as an African Start-Up has received the US$125,000 grant and support from the Novartis Foundation for the Play4Health Challenge. The Ethiopian innovation aims to improve healthy lifestyle opportunities for schoolchildren to reduce cardiovascular complications in the future. Schoolchildren (100,000), schools (300) and volunteer educators (1,000) are to benefit from the (culturally) contextualised KaziKidz teaching and learning materials.
Dr Bethel Dereje's team is receiving this acceleration grant to drive KaziKidz's innovation through a public-private partnership project. The implementation in Ethiopia is supported by the Ministry of Education. The results and key findings will also feed into the foundational work of the Africa Centres for Disease Control and Prevention (Africa CDC).
The UNESCO Chair Team will support the Ethiopian project team with expert knowledge in the future. Therefore, a cooperation agreement between the participating institutions is to be worked out. Further information can be obtained from Dr Bethel Dereje from the St Paul's Hospital Millennium Medical College (Addis Ababa, Ethiopia).