Siyaphakama Zwide Schools Project: "Meet and Greet" with founders Siya and Rachel Kolisi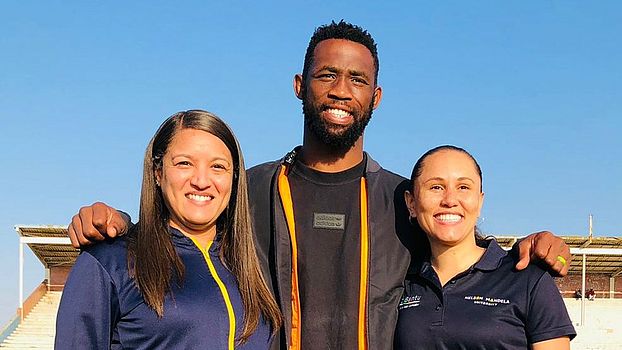 From left: Larissa Adams (KaziBantu), Siya Kolisi (Kolisi Foundation) and Danielle Dolley (KaziBantu)
News from the KaziBantu project
The KaziBantu Project, in collaboration with the Kolisi Foundation, Ubuntu Pathways and United Through Sport, has teamed together to form the Kolisi Foundation's Siyaphakama Zwide Schools Project. The inaugural Education and Sports Development project, named after Siya Kolisi and his mother, Phakama; and hence, "Siyaphakama" – meaning 'we are rising' – seeks to address the multitude of challenges facing township youth by creating a tailor-made programme to address physical education, malnutrition, academic education, life skills and youth employment to help children and youth exit the poverty cycle and become active, positive contributors to society. The Siyaphakama project's mission is to help develop healthy, active, emotionally, and academically stronger children while contributing to the broader development of the Zwide community and beyond. Therefore, the core team has drawn up the following agenda points as a focus:
All children given an equal opportunity to learn and thrive in their academic and sporting abilities;

Schools in Zwide with high quality training facilities, programmes, and equipment;

Clear academic and sporting pathways from childhood to career; and

Equitable access to opportunities for children to excel in academic, sporting, and recreational activities within their communities.
Through the Siyaphakama Zwide Schools Project initiative, on Monday and Tuesday, 18th and 19th July 2022, representatives from Ubuntu Pathways, United Through Sport and The KaziBantu Project had the opportunity to meet and engage with the founders of the Kolisi Foundation, Siya and Rachel Kolisi, as well as multiple stakeholder and partner representatives. Hosted at Ubuntu Pathways as the main base, the itinerary included visits to the local Zwide sports stadium, the Dan Qeqe Stadium, a tour of Zwide – including the origins and history of Zwide and the surrounding township communities, the primary school Siya attended, his home as a child, areas where he spent most of his time growing up, where he first picked up a rugby ball, and finally, ended off with a book launch of his autobiography, Rise.
Visibly and tangibly so, the day was filled with interesting conversations and interactions between the project founders and various project partners. Hopefully, this will result in a much more pleasant and synergistic interchange leading to beneficial and rewarding outcomes for both the Siyaphakama Project as the NGO, as well as the various project partners.