Handover of playground initiative – KaziPlay – at two Gqeberha primary schools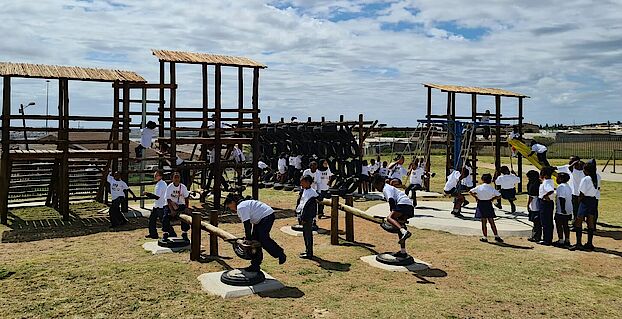 KaziPlay brings joy to two Nelson Mandela Bay school playgrounds
Nelson Mandela University's Departments of Human Movement Science and Architecture in collaboration with project leader Hon Prof Uwe Pühse, Dr Ivan Müller and colleagues from the Department of Sport, Exercise and Health from the University of Basel, together with Mandela University alumnus and architect Jacques Theron from the company Werk, have completed enhancements to playground and ablution facilities at two under-resourced schools in Gqeberha.
KaziPlay is a sub-component of the KaziBantu Project, ( www.kazibantu.org) a specially tailored school-based intervention, and aims to consolidate the practice of physical education and to ensure the physical literacy and healthy active living of school children and teachers in South Africa. KaziPlay is a playground and sanitation intervention to enhance playground and ablution facilities at schools situated in disadvantaged neighbourhoods in Gqeberha.
"School playgrounds are important features to encourage physical activity and allow children to explore and have fun," says project co-leader and Associate Professor in Human Movement Sciences' Prof Cheryl Walter.
The KaziPlay project includes an exciting playground design, using recycled material, and integrating elements that promote basic motor competencies such as balance, rolling, jumping, running, crawling, hanging, stretching, and climbing. Renovations of the ablution facilities based upon the needs and requirements of the respective schools were also undertaken. The KaziPlay project was funded by the Development cooperation of the Canton of Basel-Stadt, Switzerland. The handover of the developed playground structures and termination of the KaziPlay project was reported in the Herald (SA).