Prof. Darelle van Greunen presents KaziHealth at the Global Sustainable Technology and Innovation Conference (G·STIC) in Rio de Janeiro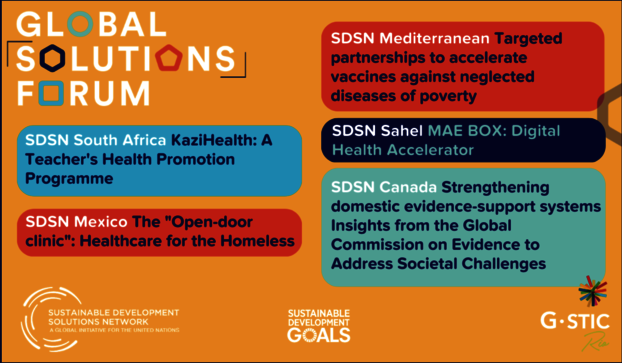 2023 Global Solutions Forum hosted by the Sustainable Development Solutions Network (SDSN), a global initiative for the United Nations
The 2023 edition of the Global Solutions Forum will convene five SDSN member institutions around the theme Health and Well-being for a Sustainable Future. On February 15th, representatives from SDSN's national and regional networks - including Canada, Mexico, South Africa represented by Prof Darelle van Greunen from the Nelson Mandela University, Sahel and Mediterranean - will share their innovative and transformative solutions, thus showing how they contribute to the achievement of the SDGs.
The GSF2023 will open with welcome remarks from Jeffrey Sachs, president SDSN, and María Cortés-Puch, Vice President SDSN. During the event, each institution will present their solution followed by a discussion with a "Solutions Committee" composed of three health and SDGs experts.
For more information, visit https://www.globalsolutionsforum.org/
The presentation can be followed here.