CEREPS Conference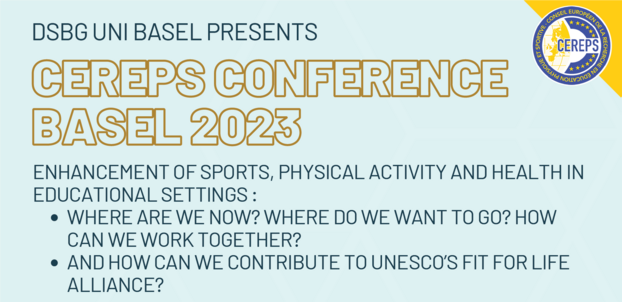 The CEREPS (European Council of Research in Physical Education & School Sport) conference will take place at the DSBG from 12 - 15 October 2023.
What is the conference about?
On a European and global level, various organizations deal with the topic of 'promoting sports, physical activity and health for children and young people'.
Numerous projects and initiatives are launched to positively influence the sports and exercise behavior of the younger generation. It is striking that these organizations rarely maintain an exchange and communicate with each other or even cooperate.
In addition, UNESCO launched the 'Fit for Life Alliance' in July 2023 on the occasion of the MINEPS VII conference in Baku. The conference in Basel should therefore pursue the question of what contribution the individual organizations and projects can make to this initiative.
Who will present?
Leading organizations whose work deals with the topic of the conference will present their concepts and implementation strategies and discuss networking opportunities with the attendees.
Moreover, two basic keynotes will be given:
"The Fit For Life Alliance Programme of UNESCO" by Dr Nancy McLennan, UNESCO, Paris, France; and
"Present State & Enhancement of PA in Children & Youth - the Perspective and Contributions of WHO" by Prof Fiona Bull, WHO, Geneva, Switzerland.
Please refer to the conference programme for more details: