Association between allergic sensitization and intestinal parasite infection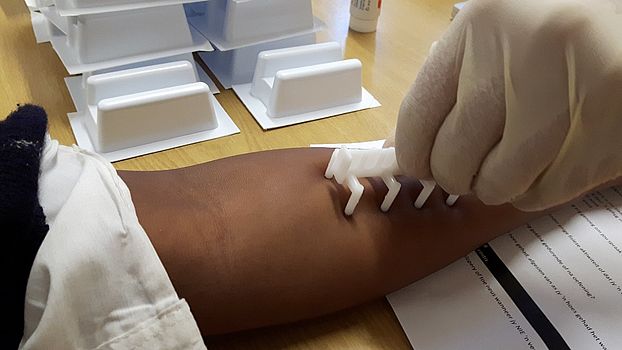 While protozoa infection is negatively associated with allergic sensitization in general, infection with geohelminths are associated with a lower risk of polysensitization in schoolchildren - News from the DASH study
Inconsistent data exist regarding the influence of parasitic infection on the prevalence of allergic sensitization and allergies. In the Disease, Activity and Schoolchildren's Health (DASH) study, Swiss and South African researchers have therefore performed a cross-sectional study in 587 schoolchildren aged 8-12 years in Gqeberha (formerly Port Elizabeth), South Africa, in June 2016. Participants were screened for reactivity to common allergens by skin prick tests and for parasitic infections by stool tests. Additionally, questionnaires were completed to record allergic symptoms the children may have experienced.
A positive skin prick test was found in 237 children (40.4%), about one third of whom were polysensitized. Sensitizations were most frequently detected against the house dust mites Dermatophagoides spp. (31.9%) and Blomia tropicalis (21.0%). Infections with geohelminths (Ascaris lumbricoides, Trichuris trichiura) were found in 26.8% and protozoan infections in 13.9% (Gardia lamblia, Cryptosporidia spp.) of all study participants. Of note, further analyses revealed significant negative associations between parasite infection and sensitization to Blomia tropicalis (OR: 0.54, 95% CI 0.33-0.88, p=0.01) and to Dermatophagoides spp. (OR 0.64, 95% CI 0.43-0.95, p=0.03). Moreover, while geohelminth infections were associated with a reduced risk of polysensitization (OR 0.47, 95% CI 0.25-0.86, p=0.014), protozoa infection protected against allergic sensitization in general (OR 0.44, 95% CI 0.22-0.88, p=0.02). However, whereas reported respiratory symptoms were significantly associated with house dust mites sensitization (ORs 2.48-1.54), only protozoan infection was associated with a reduced risk of dyspnea at rest (OR 0.30, 95% CI 0.10-0.85, p=0.02).
Taken together, these interesting new findings suggest that helminth infections are associated with a reduced risk of polysensitization while protozoan infection generally protects against allergic sensitization. Brandt and colleagues therefore conclude that the diverse effects of these parasitic infections on sensitization to house dust mites, on polysensitization and on sensitization in general, may provide interesting approaches for allergy prevention. This study was supported by grants of the Freiwillige Akademische Gesellschaft, Basel, Switzerland, and Mundipharma Medical Company, Basel, Switzerland, handed over to Oliver Brandt. The detailed research results are published in Clinical & Experimental Allergy :
Brandt, O., Wegenstein, B., Müller, I., Smith, D., Nqweniso, S., Adams, L., Müller, S., du Randt, R., Pühse, U., Gerber, M., Navarini, A., Utzinger, J., Labhardt, N. D., Schindler, C. and Walter, C. (2022) "Association between allergic sensitization and intestinal parasite infection in schoolchildren in Gqeberha, South Africa", Clinical & Experimental Allergy. Wiley, Doi:10.1111/cea.14100.